Yonago Int'l Exch. Fest 2018 Seeks Participants! by 5/31
Yonago International Exchange Festival 2018 Participants and Participating Groups Wanted!

When: 24 September 2018 (Monday holiday) 11AM-3PM (tentative)
Where: Yonago Cultural Hall (293 Suehiro-cho, Yonago City)
Deadline: 31 May (Thursday)
Categories:
(1)Stage Performance 

Int'l song and/or dance performance (approx. 10 min. per group)


(2)Refreshments/Merchandise 

Food, etc. from around the world (profit is not the goal)


(3)Exhibits/Showcases/Experiences 

Panel exhibits showcasing organization's activities, cultural experiences, etc.


(4)Individual Participation 

MC, announcers, help planning and running the event
Sponsors: Yonago International Exchange Festival Executive Committee, City of Yonago, and TPIEF
Signup & Info: Executive Committee Office TEL 0859-34-5931 inside TPIEF Yonago Office
☆Download the flyer
here
(.pdf)
☆Download the signup form
here
(.doc)
An event geared toward fostering cultural diversity and respect in the region☆Light exchange with a variety of countries♪Won't you come and introduce your organization or homeland?

Please read and agree to the terms on the flyer before signing up.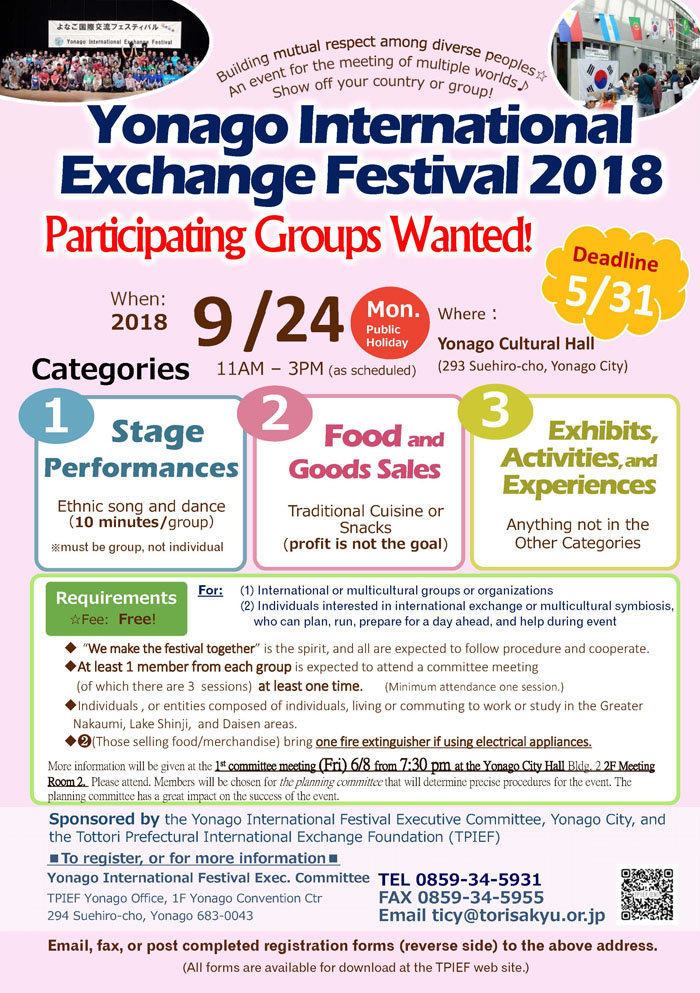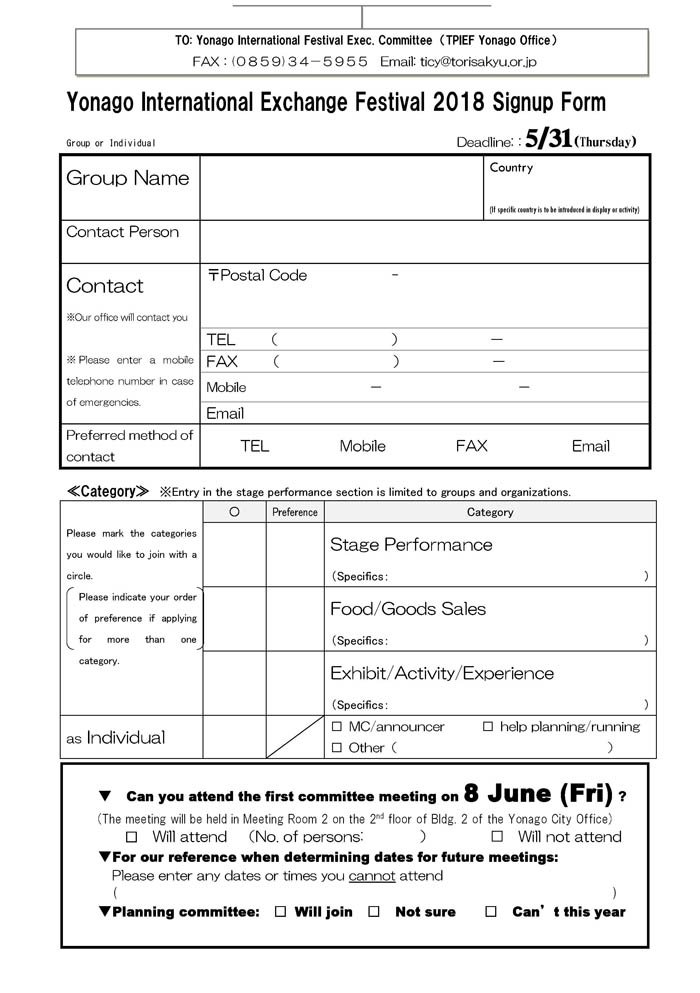 【Terms】
◆"We make the festival together" is the spirit, with cooperation between participating organizations, groups, and individuals.
◆At least one member from each group is expected to attend a committee meeting (of which there are 3 sessions) at least one time. (Minimum attendance one session.)
◆Basically limited to individuals, or entities composed of individuals, living in or commuting to work or study in the Greater Natkaumi, Lake Shinji, and Daisen areas.
◆(2)Those selling food/merchandise please bring
one fire extinguisher
if using electrical appliances.
※More information will be given at the 1st committee meeting (Friday) 6/8 from 7:30pm at
Meeting Room 2 on the 2nd floor of Bldg. 2 of the Yonago City Hall.
Please attend. Members will be chosen for the planning committee that will determine precise procedures for the event. The planning committe has a great impact on the success of the event.